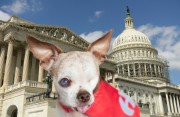 After spending 10 years in a small wire cage in a puppy mill, Harley got the chance to tell his story to a full house during a Congressional Briefing on Capitol Hill in Washington, D.C. on October 21, 2015.
Washington, D.C., October 23, 2015 (Newswire.com) - 'Dog Day Afternoon on the Hill' was hosted by the new congressional Humane Bond Caucus which was created by Congressmen Gus Bilirakis (R-FL-12) and Henry Cuellar (D-TX-28) to bring common-sense, scientific dialogue and logical discussion to concerns between humans and animals.
Harley's story tells the tale of the cruel commercial dog breeding industry and his mission to spread awareness. Harley's human parents, Dan and Rudi Taylor, stood with Harley before a packed house and asked for help in changing laws that would make a difference for the hundreds of thousands of breeding dogs currently imprisoned in puppy mills today.
"Harley is a hero because he gives hope to the hundreds of thousands of breeding dogs still living in puppy mills. But he's also a hero to thousands of people because he's inspired them on a more personal level. Maybe it's his imperfect look that allows people relate to him ... he touches their hearts and helps them realize there is more meaning to life."

Rudi Taylor, Harley's Mom
Last month Harley became American Humane Association's 2015 "American Hero Dog" during a star-studded event in Beverly Hills. This great honor was bestowed upon Harley for his tireless efforts over the past four years spreading awareness about puppy mills. Additionally, Harley's campaign, "Harley to the Rescue" has saved more than 500 dogs from puppy mills and raised more than $500,000 to provide medical care for those dogs and many others.
Also in attendance were the seven other finalists of American Humane Association's Hero Dog Awards: Arson Dog Glory; Guide/Hearing Dog Chara; Law Enforcement Dog Dax; Military Dog Rambo; Search and Rescue Dog Glory; Service Dog Axel; and Therapy Dog Hudson. This was the first time these outstanding dogs were presented to Congress and the public.
American Humane Association president and CEO, Dr. Robin Ganzert, thanked Congressman Bilirakis and Congressman Cuellar, and also Crown Media whose support of the Hero Dog Awards helped make it possible. "American Humane Association is so proud that you founded the Humane Bond Caucus this year, and we will fully support you along the way. Special thanks to our friends at Crown Media Family Networks, who have been tremendous partners and have helped ensure the success of the Hero Dog Awards over the years. We created the American Humane Association Hero Dog Awards to honor our best friends and pay tribute to their heroic handlers on the other end of the leash, and we are proud that this year's amazing class of winners was able to bring their stories to our nation's lawmakers and soon the American public will have the chance to see these heroic 'tails' come to life on national television."
American Humane Association board chairman, John Payne, said in his closing address, "There really is no stronger example of the connection between humans and animals than the one we share with dogs. Without dogs, we would not be nearly as safe or healthy, and certainly we would not be as happy. Ask anyone here, that's why it is so important we recognize their value."
The Hero Dog Awards will be nationally televised on Hallmark Channel on October 30, 2015.
About Harley
After spending 10 years living in a cramped, filthy cage in a puppy mill, where he'd lost an eye when his cage was power-washed, Harley was on the brink of death when he was finally freed. He immediately received much-needed medical care and found love with a special family. He began to thrive.
To the surprise of the veterinary community, 4 years later, this strong-spirited little 6-pound Chihuahua is still going strong in spite of medical conditions caused from his years living in a cage. Harley works hard educating children and adults alike about puppy mills. His campaign, 'Harley to the Rescue,' has raised more than $500,000 and Harley has personally participated in the freeing of more than 500 dogs from puppy mills across the Midwest.
At 14 years old, Harley seems well aware that his life has a purpose. Whether it be a fundraiser in his honor that draws close to 2,000 people, or visiting an elementary school classroom to educate our youngest generation about where pet store puppies really come from, Harley's magical personality grasps the hearts of all who meet him.
This little one-eyed dog is known worldwide. Harley inspires hope and confidence in people of all ages and in all walks of life who are able to relate to his less-than-perfect appearance and his approachable, down-to-earth nature. He's been featured on the cover of popular magazines and on television and radio, and he is considered a social media sensation.
What is a Puppy Mill?
A puppy mill is a large scale commercial dog breeding operation where dogs live in cages and are bred repeatedly, producing puppies to be sold in pet stores across the country and online. When the dogs are "used up" and can no longer produce puppies, they are disposed of, often at only 5-6 years of age. There may be as few as 100 breeding dogs or as many as 1,000 breeding dogs housed at a single facility. It is estimated there are approximately 10,000 puppy mills in the USA. Most of the dogs live in deplorable conditions - in tiny wire cages, stacked one on top of another, in buildings and barns which often have no heating or cooling. The dogs are not socialized, they receive little or no veterinary care, they do not have beds or toys, and they never get to run or play in the grass – some dogs never even see the sunlight. And though they yearn for it, they never receive love.
Learn more about Harley: www.harleypuppymilldog.com
Read about American Humane Association: www.americanhumane.org
Harley will be a guest on the Today Show on October 26th and HuffPost LIVE on October 27th.
Share: